Dr Jennifer Ralph James, Head of the National Office for Research Ethics Committees, reflects on one-year in office during a global health emergency, and shares the vision for the National Office going forward.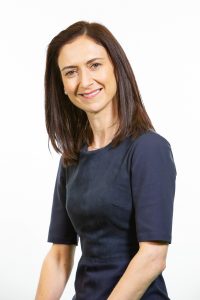 The National Office was established in March 2020 as a fundamental component of the transition to a national system of research ethics review, led by the Department of Health. From supporting National Research Ethics Committees (NRECs) in prescribed areas of health research, to ensuring end-to-end ethics oversight throughout the lifecycle of a research study, the role of the National Office enables ethically responsible health research in Ireland through robust and efficient research ethics review.
Within days of its establishment, the National Office quickly became an integral contributor to the pandemic response effort. Initially, through the introduction of an expedited ethics review process for COVID-19 health research — and by extension, in the operationalising of a dedicated national committee to provide ethics review. Known as NREC COVID-19, the committee worked to accelerate Irish research to support immediate, evidence-based decision-making and contribute to global efforts to counter the pandemic.
Membership of the committee was drawn from the scientific, medical, ethical and legal communities, with valuable input from PPI (Patient and Public Involvement) members who ensured that the voice of patients and the public was heard at a time when health research mattered most. To ensure rapid review, the NREC COVID-19 process was coordinated where necessary with other regulators of health research (namely the Health Products Regulatory Authority (HPRA) and the Health Research Consent Declaration Committee (HRCDC)), a process that was not previously in place under the local system of research ethics review.
Enabling a rapid review process of the highest ethical standards
Over its four-month tenure, from April to August 2020, the NREC for COVID-19 reviewed 93 applications across ten different therapeutic areas — operating at pace, but without lessening the important protection that ethics review provides for patients and research participants. Often, decisions were returned within days of an application being submitted, and shortly after review, information on each COVID-19 study was published on the National Office website in line with NREC's commitment to transparency. Of the 85 studies approved by the committee, 23 were part of international collaborations. Approved Irish studies were carried out within 61 institutions across 20 counties. They included research on 'long COVID' and the clinical impact of the virus on cancer patients — and ranged in operational scale from individual-led studies to multicentre sites.
Evolving to establish new committees in research areas of national strategic importance
Implementation of Ireland's first National Research Ethics Committee, the NREC for COVID-19, laid the foundation for the recent establishment of three new priority committees — two in the area of clinical trials and one in medical devices. These were established as part of a broader transition to a national system of research ethics review, developed in partnership with the Department of Health, the HPRA, and in collaboration with local research ethics committees across Ireland. A notable milestone was the launch of a public call for expressions of interest for committee membership, which informed a recommendation from the National Office to the Minister for Health for NREC appointments. Today, a total of 54 volunteer members make up the three new committees, each offering diverse expertise and perspectives. Together they lead research ethics review at a national level and are responsible for providing 'single national ethics opinions' that are respected across Ireland, with the aim of ensuring the highest ethical standards and an uncompromising commitment to the wellbeing of research participants.
Taking a lead in the new regulatory environment: from complex regulation to impactful change
The life sciences sector is going through a period of unprecedented regulatory change. New EU regulations aim to harmonise the regulatory platform by improving transparency, bolstering safety measures and enhancing pan-European coordination. Ireland's preparedness for upcoming EU regulations in the areas of clinical trials and medical devices is informed by our participation in key European working groups, including those led by the European Medicines Agency and the European Network of Research Ethics Committees. Irish legislation to give national effect to the new EU medical device regulation was passed in May (Statutory Instruments 260 and 261) — a fundamental hallmark of Ireland's ongoing commitment to and capacity for research in the medical device space. As we count down to implementation of the Clinical Trial Regulation (CTR) in January 2022, we look forward to working with the HPRA on the CTR National Collaboration Project to hone Ireland's readiness for national regulatory decisions on clinical trials. Additionally, at the request of the Department of Health, we will devise a national mechanism for research ethics review of studies involving medical ionising radiation, an important regulated research area with particular impact for oncology.
Putting the patient experience at the centre of health research
Ethics in health research is not just a matter for researchers or regulators — it affects us all. Looking ahead, a key focus is raising public awareness and understanding of the purpose of research ethics review and the role of the National Office, with a view to contributing to a 'scientifically conscious society'. We look forward to meaningful engagement with patient advocacy groups to ensure that the perspectives and interests of patients are at the core of Irish research studies, as well as continued PPI participation on national research ethics committees. As lay members who don't typically work in close proximity to clinical research, PPI members offer unique and objective views on the ethics review process, which sits at the heart of NREC's commitment to protecting and promoting the interests of patients and the public in health research. In the near-term, a focus on equity, diversity and inclusion in the context of research ethics review will underpin our training programmes for committee members, and in due course, our education outreach to local research ethics committees and the wider research community.
2020 was extraordinary by any measure. Going forward, we have a key role to play in embedding the new national research ethics committees into the research infrastructure, building awareness of research ethics, and enabling national readiness for the opportunities that come with new EU regulations in strategically important areas of health research. We look forward to helping to shape a new chapter in Irish health research.
Learn more about the work of the National Office for Research Ethics Committees: