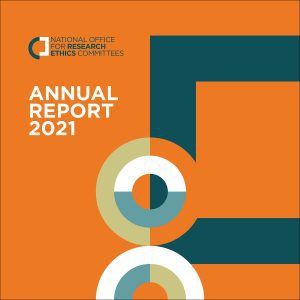 The National Office team is delighted to present our Annual Report for 2021. This marks our first full calendar year of operation, and one that proved to be a time of important milestones for Ireland's new system of national research ethics review. The report captures a year of launch, growth and focus for both the committee members and the National Office team as we worked to transform and embed an essential infrastructure for health research in Ireland.
Key highlights in 2021 included the ministerial appointment of members to constitute three new National Research Ethics Committees (NRECs) following a nationwide recruitment campaign. The report provides an overview of these committees' work on the ethics review of clinical research studies of investigational medicinal products and medical devices – supporting innovative research while protecting the dignity, safety and well-being of research participants.
Click here to download the 2021 report in full.