The National Office for Research Ethics Committees and the Health Research Board will jointly host a national conference on research ethics on 30 November at the Gibson Hotel in Dublin.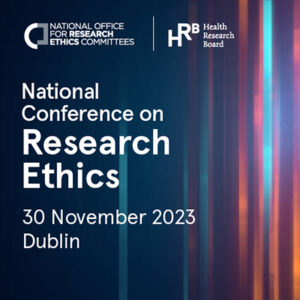 The event will take an in-depth look at how and why ethical considerations are embedded in the practices of health research. These discussions come at an important juncture in the evolution of the research ethics landscape both in Ireland and internationally – as we emerge from the COVID-19 pandemic into a research environment full of new ethical challenges in areas as diverse as artificial intelligence, genetics and genomics, and how to best safeguard the rights of research participants. 
Due to the strong interest in the event, we are currently at full capacity for the conference and new registrations will be processed through a waiting list system. Click here to join the waiting list and we will contact you should a space become available.
The programme is outlined below, and further details on speakers can be found on the HRB website. Check back here or follow the National Office on Twitter or LinkedIn for the latest updates.
This will be a full-day in-person event. 
Programme
08.00 Registration and coffee
09.00 Opening and welcome words
Dr Emily Vereker, Head of the National Office for Research Ethics Committees
09.15 Session 1: Research ethics – where we've come from, where we're going 
Our first session will set the scene with an overview of what research ethics is and how it has developed over time.
09.15 Keynote: A short history of research ethics
Prof. Deirdre Madden, University College Cork
09.45 Overview of the Irish research ethics landscape
Prof. Andrew Green, University College Dublin
10.05 Research ethics governance in a changing global landscape
Dr Laura Merson, International Severe Acute Respiratory and Emerging Infection Consortium
10.25 The European landscape – a regulator's perspective
Peter Arlett (invited), European Medicines Agency
10.45 Panel discussion
11.15 Coffee break
11.35 Session 2: Research ethics in action – inclusive research
In session 2 and 3, we will explore key debates and emerging issues in research ethics, and delve into the substance of how ethics is practised in real-world health and social care research.
Session 2 will focus on the ethics of inclusive research, beginning with a keynote on current debates in this area. Researchers and study participants will then share their experiences navigating ethical challenges in trials involving groups such as pregnant women or children, who can face specific challenges when it comes to being included in research.
Session Chair: Dr Avril Kennan, Health Research Charities Ireland
11.35 Keynote: The ethics of inclusive research 
Dr David Shaw, Institute for Biomedical Ethics, University of Basel
12.05 Case study 1: The inclusion of pregnant women in research
Prof. Fidelma Dunne, University of Galway
12.20 Case study 2: Paediatric clinical trials
Noreen Doyle, PPI representative
12.35 Case study 3: The inclusion of vulnerable or marginalised groups in research
Speaker to be announced
12.50 Panel discussion
13.15 Lunch
Session 3: Research ethics in action – emerging technologies
Session 3 will begin with a keynote on the ethical challenges related to research in new technologies: from artificial intelligence, to connected healthcare, to big data.
We will then hear from researchers and patients/participants on their experience in real-world studies where emerging tech played a central role. Speakers will discuss what the future holds for unlocking the potential of new innovations, while respecting the dignity and well-being of research participants.
Session Chair: Prof. Barry O'Sullivan, University College Cork
14.15 Keynote: Ethical challenges in emerging healthcare technologies
Prof. David Archard, Chair of the Nuffield Council on Bioethics
14.45 Case study 1: Artificial intelligence
Prof. Derek O'Keefe, University of Galway
15.00 Case study 2: Biobanking 
Dr Michaela Mayrhofer, BBMRI-ERIC
15.15 Case study 3: Genomics
Prof. Sally-Ann Lynch, University College Dublin
15.30 Panel discussion
16.00 Closing words
Dr Mairead O'Driscoll, Chief Executive, Health Research Board
Click here to join the waiting list and we will contact you should a spot become available. If you have any questions related to registration or the details of the conference, please contact the organising team at hrb@conferencepartners.com.