New Clinical Trial Regulation
Today, 31 January 2022, new Clinical Trial Regulation (CTR) will enter into force. The new regulation requires that all clinical trial applications and assessments be managed through a new, unified online portal known as the Clinical Trial Information System (CTIS). The CTIS will act as a one-stop, centralised repository for all information relating to clinical trials in the EU.
Important to note: due to the new regulation entering into force, applications for clinical trials that come under the regulation will no longer be submitted directly to the National Research Ethics Committee for Clinical Trials (NREC-CT) or to the Health Products Regulatory Authority (HPRA). Instead, they must be submitted using the CTIS. Documentation requirements will also change under the CTR.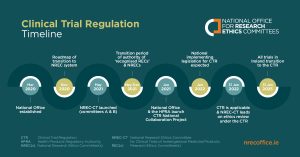 Ethics assessment of all Clinical Trials of Investigational Medicinal Products
On the back of the CTR entering into force:
NREC-CT will take on full responsibility of the ethics assessment of all new clinical trial applications.
Local Research Ethics Committees will retain reporting responsibility for ongoing trials that have not yet transitioned to the CTR or to the NREC system.
Transitional arrangement
In the 12-months following the regulation's entry into force, new clinical trial applications may still be submitted under the current rules and legislations (SI190). However, upon launch of the CTIS, we strongly encourage applicants to submit all new clinical trial applications using the CTIS, in line with the CTR.
If you wish to submit a new clinical trial in line with the current rules and legislation during this 12-month transition period, please note that relevant documents must be sent directly to the National Office by email to clinicaltrials@nrec.ie.
More information
Detailed information on part II requirements specified by the NREC-CT is available on our Part II National Requirements page.