Part II National Requirements
In order to obtain authorisation for a clinical trial for a mono-national or multi-country trial, a sponsor must submit a harmonised set of documentation to Member States through the Clinical Trials Information System. Where the Clinical Trial Application (CTA) is multinational, the sponsor must nominate a single Reporting Member State (RMS) whose role is to lead and support the coordination of the assessment of the clinical trial. This represents a significant departure from the previous requirement that a separate CTA needed to be submitted to various independent bodies in different Member States.
The authorisation procedure will is split into two stages:
Part I: a coordinated scientific assessment of the CTA by the RMS and all Member States Concerned (MSCs).
Part II: an ethical assessment of country-specific and site-specific documents by each MSC according to its own national requirements.
Following this procedure, each Member State will reach its own outcome and notify the sponsor through CTIS as to whether the clinical trial is authorised, authorised subject to conditions, or refused.
Please see the NREC-CT Operational Framework under CTR for further information.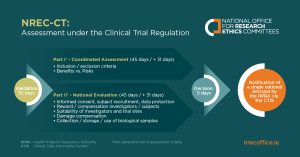 What documentation is needed?
Recruitment arrangements
Recruitment and informed consent procedure template
All other relevant materials
Subject information and informed consent
Recruitment and informed consent procedure template
Consent / assent forms
Participant information materials
Additional relevant materials
Suitability of investigator
Signed CV template
Suitability of facilities
Signed site suitability template for each individual site
Proof for insurance and indemnification
Evidence of policy cover
Financial and other arrangements
Statement confirming source of funding
Compensation for trial participants template
Signed 'Declaration of Interest' template
Collection, storage and use of biological samples
Compliance with use of human biological samples template
Additional materials where relevant
Evidence of compliance with data protection laws
Statement outlining measures in place to comply with national and EU legislation
Study-specific Data Protection Impact Assessment with evidence of input from Data Protection Officer (or where relevant, statement outlining why a study-specific DPIA is not necessary)